Manhattan Casanova
a witty, winning new play... You could ask for more from an evening at the theater. But you wouldn't get it.
—The Journal News

a bright and delicious new comedy...
—The Southampton Press
Manhattan Casanova was chosen from 1,600 plays as 1 of 12 featured at the O'Neill Center, where it won the Edith Oliver Award for a play that in the spirit of the New Yorker critic "has a caustic wit that deflates the ego but does not unduly damage the human spirit." It was then staged at Guild Hall in East Hampton, starring Mercedes Ruehl & Gregg Henry, in a sold-out special presentation that ran 3 weeks. It received its world premiere at Hudson Stage, starring Elizabeth Hess & James Kiberd.
Scroll down for reviews and more...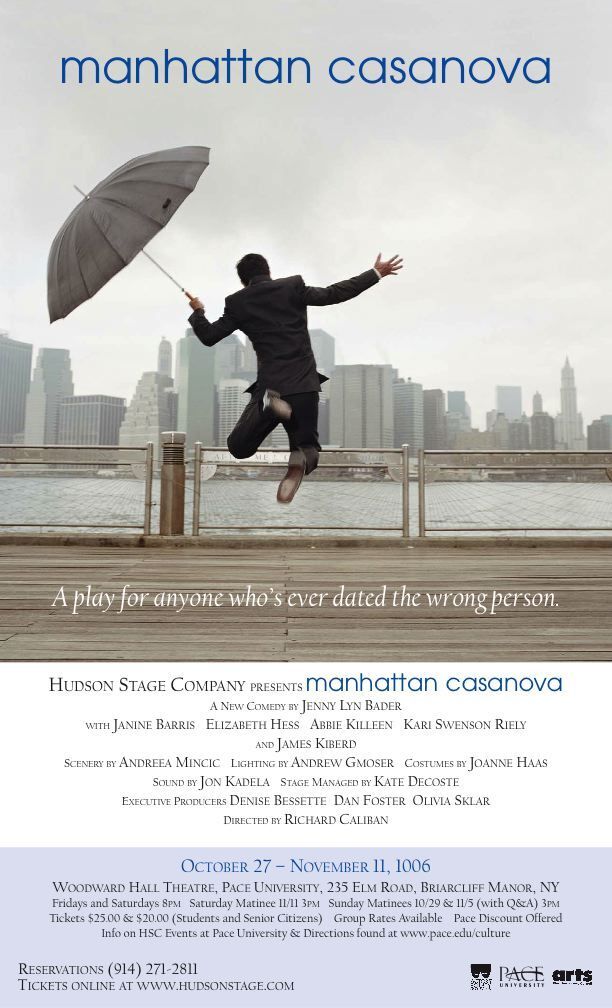 Praise for Manhattan Casanova at Hudson Stage Company:

When Pam tells Charlotte she's fallen for a man who wooed her with French poetry, Charlotte says: "That's not love at first sight, honey! It's love at first citation."

Welcome to Jenny Lyn Bader's "Manhattan Casanova," a witty, winning new play on stage through Nov. 11 at Pace University in Briarcliff Manor, a production of Hudson Stage Company.

This urban fairy tale mixes the snappy dialogue of "Sex and the City" with the feel of a New Yorker cartoon. There's a psychiatrist who drives her friends crazy, a mantra-chanting patient who sees things clearly, a friend who lives in the present, a waitress with a passion for the Knicks and, of course, a lothario making the rounds.

Yes, love is in the air.

Bader's script is knowing and natural and, in performance, these are characters we recognize.

That said, director Richard Caliban, who staged "Kimberly Akimbo" here last season, has a first-rate design team of accomplices to achieve just the right fairy-tale feel.

Andreea Mincic's set is two banks of panels onto which lighting designer Andrew Gmoser projects photos of New York scapes, of the women and of suggestive pieces of art that happen to be the handiwork of the actor playing the Casanova. When not acting as a screen for these images, the panels are lit ethereally - sometimes cool, sometimes warm - to reflect the mood. It's remarkably effective.

All of this is backdrop, of course, to a script that is charming, bright and breezy. Caliban directs with a brisk pace entirely suited to the material. It's easy to go along for the ride.

Psychiatrist Charlotte Kaplan (Elizabeth Hess) is so judgmental and down on love that her girlfriends - who have found love - break up with her.

Enter John Casey (James Kiberd ), the title character. We soon learn that Casey has seduced Charlotte's friends - and some of her current and former patients.

But Casey doesn't see it as seduction. He sees it as his brand of therapy - "saying what usually goes unsaid ... offering revelations."

The sparks between these two are too hot not to start a fire.

When Charlotte falls, and fall she must, she falls hard. All the certainty, judgement and caution in Act 1 fall by the wayside in Act 2. But Bader still has a twist or two in store.

Elizabeth Hess' Charlotte is domineering with her friends, demanding with the waitstaff and no pushover for any man, least of all John. Hess has a smoky vocal quality that reminds one of Lauren Bacall and a bearing that runs the gamut from aloof to vulnerable.

Kiberd plays John with a twinkle in his eye and the kind of confidence one would expect of a "serial seducer."

Known to fans of "All My Children" as mercenary-turned-detective Trevor Dillon, Kiberd endows John with an inner calm befitting a lion tamer, approaching these women with a wink, a nod - and absolutely no apologies.

With Bader's smart dialogue and two actors up to the task, the scenes between Charlotte and John crackle with sexual tension.

The supporting cast is pitch perfect.

Janine Barris, as the suggestible, mantra-loving Eva, is sweet, well-reasoned and well-adjusted. The scenes with Barris are particularly memorable, thanks to her commitment to the material. She is at times weepy, at times lucid and always a joy to watch.

As Pam, Abbie Killeen is bubbly, hopeful and in love - and not interested in Charlotte's efforts to deflate her.

Kari Swenson Riely is down-to-earth and clear-eyed as the waitress, Viv, and returns later as Anne, Charlotte's languid friend who has fallen headlong in love and enters in full swoon. Both characters are well-formed and believable.

Romantic comedies are the red-headed stepchild of theater genres, painted all with the same brush and dismissed out of hand. "Serious" theater groups don't do romantic comedies.

But a well-written romantic comedy, like "Manhattan Casanova," in the hands of a first-class theater group, like Hudson Stage, introduces us to interesting characters, makes us laugh and, yes, think.

"Manhattan Casanova" is about relationships, about people who flirt and act on those flirtations and, in the end, about asking for what you want - and getting it.

You could ask for more from an evening at the theater. But you wouldn't get it.
-Peter Kramer, The Journal-News


Is that moonlight or the pearly glow from a halogen lamp? Sometimes it's hard to tell. It all depends on your frame of reference which makes the irony of "La Vie en Rose" as theme for Hudson Stage Company's production of "Manhattan Casanova" sweet... Charlotte is sipping Merlot and reading Gabriel Garcia Marquez's "A Hundred Years of Solitude" when John (James Kiberd), everybody's favorite Casanova, enters and the sparks fly. With a feisty round of snappy dialogue, they begin the mating game... At the O'Neill Playwrights Conference, Manhattan Casanova received the Edith Oliver Award for its "caustic wit that deflates the ego but does not unduly damage the human spirit." In Bader's world men and women may live on different planets, but when the stars line up just right, the gravitational pull is nothing short of cataclysmic… Thought-provoking theater!
—The Scarsdale Inquirer



Praise for Manhattan Casanova at the John Drew Theatre at Guild Hall:

Jenny Lyn Bader's bright and delicious new comedy... if "Manhattan Casanova" and "Sex and the City" were put in head-to-head combat, "Manhattan Casanova" would win, hands down. It climbs into the ring with two big advantages and probably more: Its dialogue is far more intelligent, and it has at least two characters who are worlds more interesting than anything "Sex, etc" ever dreamed.

These characters are played in East Hampton by Mercedes Ruehl and Heather Goldenhersh, who matches the irrespressible and charismatic Ms. Ruehl line for line... Ruehl rules the stage at all times. Using her voice as if it were an orchestra, she shades and launches each syllable of each line with dazzling control and comic impact.
—Southampton Press

August typically means a suspension of therapy as analysts take summer vacation. How does that make you feel? Assuage those abandonment issues with Manhattan Casanova starring Academy and Tony Award-winning actress Mercedes Ruehl. Written by Jenny Lyn Bader... who Wendy Wasserstein described as her favorite young playwright, [Manhattan Casanova] explores what happens when a cynical psychiatrist finds herself facing a love epidemic... Don't be last on line for your chance to experience Bader's quirky take on love and relationships.
—East Hampton Independent

a fast-paced comedy
—Newsday

Don't tell writer Jenny Lyn Bader that miracles don't happen. Not that it's a miracle that her screwball comedy "Manhattan Casanova" is opening tonight... Chalk that up to the author's gift for invention, zany sense of humor, and on-target understanding of the wacky dynamics of contemporary sexual politics.
—Southampton Press (profile)

Production/Development History. Manhattan Casanova has had festival stagings and readings at theatres including: 45th St. Theatre (dir. Richard Caliban); Falcon Theatre, Los Angeles (w/ Tony Shalhoub, dir. Barnet Kellman); Neighborhood Playhouse (w/ David Alan Basche, dir. Chris Smith); Mulford Barn (w/ Roberta Wallach, dir. Chris Smith); Ultimate Female Protagonist Project/Mae West Fest, Seattle, WA (dir. Teresa Thuman); The New Group (w/ Rob Bogue, dir. Julie Kramer). And it was featured in the International Center for Women Playwrights' Chicago Her-rah "festival of the world's best women playwrights and their new plays."